Shop Formula 1 Track Wall Art
All of the best Formula 1 Tracks in One Spot
If you're looking for Formula One track wall art, you've come to the right spot. Standing Start Co. designs and manufactures original artwork featuring the best tracks from around the world.
Browse our Formula 1 track wall art above, available on poster, maple wood panel, or thin metal.
🏁 Formula 1 Wall Art 🏁
Every turn. Every straight. We've developed original wall art for every Formula 1 track, current season and past seasons. These epic race tracks deserve to be displayed on your wall in a unique and graphic forward way.
From Azerbaijan to Zandvoort
🏁 Formula One just got a whole lot more stylish. 🏎️
Customize your garage, shop, or office with our wooden F1 wall art.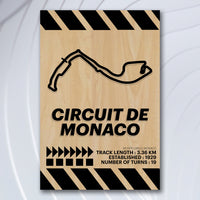 Metal, Wood, or Poster
Our intention is for our clients to make amazing collages of their favorite tracks. For this reason, we offer all of our art on thick, multi layer wood, thin metal, or high quality Japanese poster prints. We place a high standard on our Formula 1 wall art.