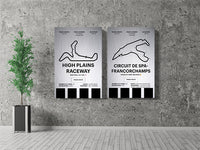 Every Apex.
Perfect for any auto enthusiast, our modern and minimal designed race track wall art bring a room together. 
We have over 50 international race track art pieces in different styles and materials like poster, metal, and wood.
Our race track wall art is very diverse and different from the normal kind of posters you may see as we bring a more minimalistic, graphic design forward approach to our prints. From Laguna Seca to Nurburgring, we aim to have the best track art to show your love for motorsports and graphic design.